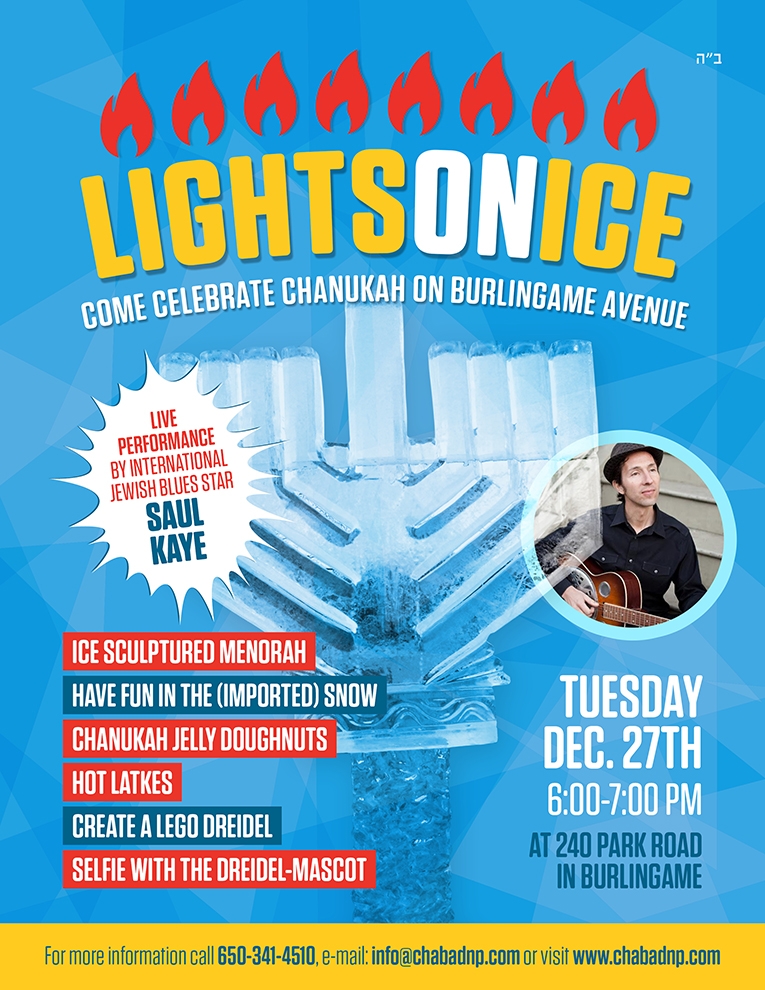 15th Annual Burlingame Chanukah Celebration!
When: Tuesday, December 27th, 2016, 6:00-7:00 PM. Menorah Lighting 6:30 PM.
Where: Right near the Burlingame Avenue Apple store: 240 Park Road, Burlingame, CA 94010.
Featuring: Jewish Blues musician Saul Kaye live in concert, Ice sculpture Menorah Lighting,  Hot Latkes, Chanukah Jelly doughnuts and more!
Kids! Bring your boots and gloves to frolic in the (imported) snow! 
Cost: Free. Looking forward to seeing you, rain or shine!
"Rarely does Jewish music produce an artist with both impeccable blues chops and the kavanah of a Hassid..."
- -Dan Pine, J. Weekly
SPONSORSHIP: Maccabee $1800, Olive $1000, Gelt $500, Menorah $250, Latka $180, Sufgania $54, Dreidel $18. All sponsors will be listed in publicty for the event unless otherwise requested. 
(To be a sponsor, donate here or send a check to Chabad NP 1670 S. Amphlett Blvd. #125, S. Mateo CA 94402.)