Join us for the Shabbat Kids Club
We are excited to have a stellar group of teachers teaching: Rabbi Yale, and Morah Rivky, Adelle, Mushkie and Lilach will all be leading different groups throughout the year. See schedule below.
We are also pleased to share that we have a new children's room! We were very fortunate to have the artistic talents of Sara Feinberg who did an amazing job decorating the room with a modern and colorful makeover. Thank you Sara, and thank you and Glen for your material donations as well! The children have been enjoying the new room on Shabbat and during Hebrew School.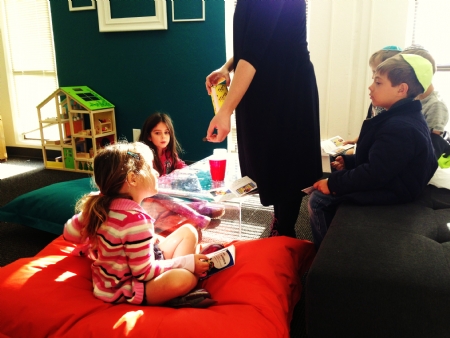 Weekly Programming @ Chabad!
Each week we will be highlighting a different age group. At the same time, the other age groups will still have their regular programming.

General childcare is provided at Chabad from 10:30-1:30.
Rabbi Yale teaches tefilah, along with stories and games from 11:30-12:15 for ages 3rd graders and up. Each week, one child is chosen to share a dvar Torah, taught by Rabbi Yale, at the Kiddush.
Monthly Shabbat Programming
Tot Shabbat
Morah Rivky and Lilach will trade off leading our Tot Shabbat - Preschool Shabbat Program, 11:15-12:15.
1st-5th Grade
Muskie and Adelle will lead an interactive fun program from 11:15-12:15
Bar and Post Bar and Bat Mitzvah Group
Rabbi Yale will lead a discussion with this age group. 11:15-12:15.
Please mark your calendars! And please let us know when your child's birthdays are so we can celebrate their birthdays at Chabad.
Calendar
| | |
| --- | --- |
| Date | Program Focus |
| Sat Dec 5 | Shabbat Program 1st -5th Grades |
| Sat Dec 12 | Shabbat Preschool Program |
| Sat Dec 19 | Bar Mitzvah and Post Bar Mitzvah Shabbat Program |
| Sat Dec 26 | Birthday Celebration for December |
| Sat Jan 2 | Bar Mitzvah and Post Bar Mitzvah Shabbat Program |
| Sat Jan 9 | Bar Mitzvah (Regular Children's Programming) |
| Sat Jan 16 | Shabbat Program 1st -5th Grades |
| Sat Jan 23 | Shabbat Preschool Program and Birthdays for January |
| Sat Jan 30 | Bar Mitzvah (Marriott) |
| Sat Feb 6 | Shabbaton in Tahoe! |
| Sat Feb 13 | Shabbat Preschool Program |
| Sat Feb 20 | Bar Mitzvah and Post Bar Mitzvah Shabbat Program |
| Sat Feb 27 | Shabbat Program 1st -5th Grades/Birthday Celeb for Feb |
| Sat Mar 5 | Bar Mitzvah and Post Bar Mitzvah Shabbat Program |
| Sat Mar 12 | Shabbat Preschool Program |
| Sat Mar 19 | Shabbat Program 1st -5th Grades |
| Sat Mar 26 | Birthday Celeb for March |
| Sat Apr 2 | Bar Mitzvah and Post Bar Mitzvah Shabbat Program |
| Sat Apr 9 | Shabbat Preschool Program |
| Sat Apr 16 | Shabbat Program 1st -5th Grades |
| May 7th | Bar Mitzvah and Post Bar Mitzvah Shabbat Program |
| May 14th | Shabbat Preschool Program |
| May 21st | Shabbat Program 1st -5th Grades |
| May 28th | Birthday Celeb for May |
@ Chabad NP
1670 S. Amphlett Blvd. Suites 110 and 125 S. Mateo 94402
Questions or RSVP: [email protected]